Prenatal massage is for a woman in their 2nd and 3rd trimester only. The recommended type of massage during pregnancy is Swedish or Swedish/combination pressure. Long gliding strokes are provided throughout the body in the direction of the blood returning to the heart. Prenatal massage is a healthy way to reduce stress and tension, and promote relaxation, circulation, and overall good health and wellness. Prenatal massage also helps relieve many of the normal discomforts experienced during pregnancy, such as backaches, stiff neck, leg cramps, headaches, and edema (or swelling). Deep tissue is not recommended or provided.
In addition, massage for pregnant women reduces stress on weight-bearing joints, encourages blood and lymph circulation, helps to relax nervous tension, which aids in better sleep and can help relieve depression or anxiety caused by hormonal changes.
If a pregnancy is due or overdue, reflexology massage is a natural process that can help induce labor.
The therapist will bring a pregnancy body cushion and/or pillows for added comfort and support.
The skin is first lubricated with massage lotion and/or oils. Various massage movements are performed during a prenatal massage.
All massage professionals have their own style of techniques they apply to various massage modalities which, vary per professional and may include the following:
⦁ Effleurage: Gliding strokes with the palms, thumbs and/or fingertips
⦁ Petrissage: Kneading movements with the hands, thumbs and/or fingers
⦁ Friction: Circular pressures with the palms of hands, thumbs and/or fingers
⦁ Percussion: Brisk hacking or tapping
⦁ Passive and active movements: Bending and stretching
If at any time you start to feel any discomfort or pain, please inform your therapist so another approach can be taken.
Benefits of a Prenatal Massage: It is recommended a prenatal massage is applied to the body as a Swedish style massage however, the client is propped up with pillows for support. Prenatal massage promotes relaxation and is exceptionally beneficial for increasing the level of oxygen in the blood, decreasing toxins in the muscle tissues, improving circulation, and increases flexibility while easing tension and metal stress. A prenatal massage may also degrease fluid/edema.
Prenatal Massage Performance: A prenatal massage is recommended to be scheduled for an average of 60, 75, to 90 minutes. This session is to be performed on a comfortable massage table with prenatal pillows in an ambient environment that is meant to promote relaxation.
Ethical Services & Professionalism: By law, all clients receiving services by a licensed massage professional must be properly draped underneath a sheet, blanket, and/or towel during all massage therapy sessions. During a massage you are generally nude or in undergarments underneath the draping. The massage professional uncovers only the part of the body he/she is working on. Our professionals will give each client privacy by leaving the room to wash their hands while each client undresses/dresses when getting on and off the massage table. Our professionals will also knock and ask to re-enter the room.
Precautions & Contraindications: Massage can be very therapeutic for many medical conditions. However, in some cases it is best to obtain a written doctors referral. Massage therapists, may not, under the written law, attempt to diagnose any medical conditions. If you have any questions or concerns, please contact us for more information.
Additional Tip: May want to avoid eating a heavy meal before a massage.
Contraindications to Receiving Massage Therapy: Massage treatment is relaxing and natural. It is generally considered a safe treatment for most people however, there are three types of "Contraindications" where massage could be provided but may be limited or, massage is not recommended at that time.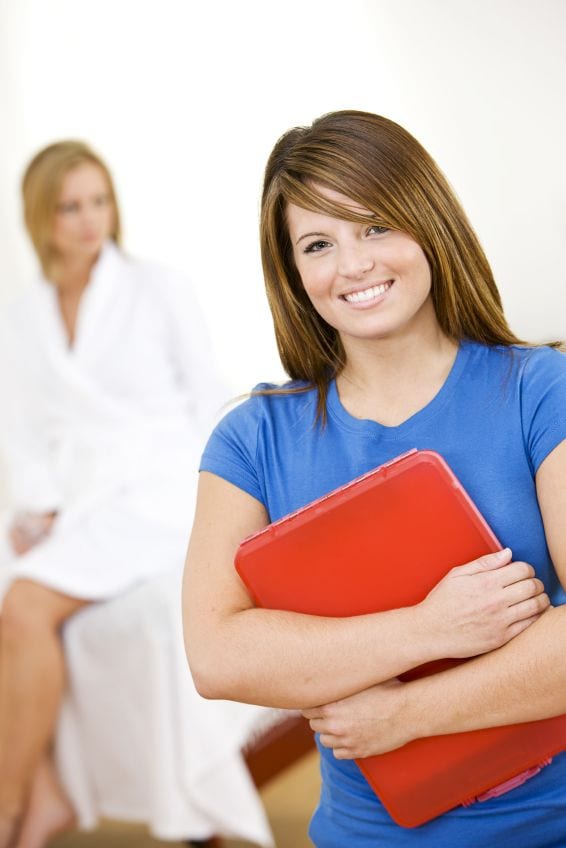 Recommendations Following a Massage:
A prenatal massage has a detoxifying effect on one's body. It is recommended to drink plenty of water after a prenatal massage to flush metabolic waste from the muscle tissues.
Consultation:
Prior to the start of any massage treatment, massage professionals will have each client complete a client health history intake form. The main purpose of a client intake form is to inform the massage professional of current and past health issues and injuries (within the year) so, special care can be taken to treat current issues and prevent additional injury.