Stress & Pain Management
Do you suffer from muscular discomfort, tension, aches, or a sports injury?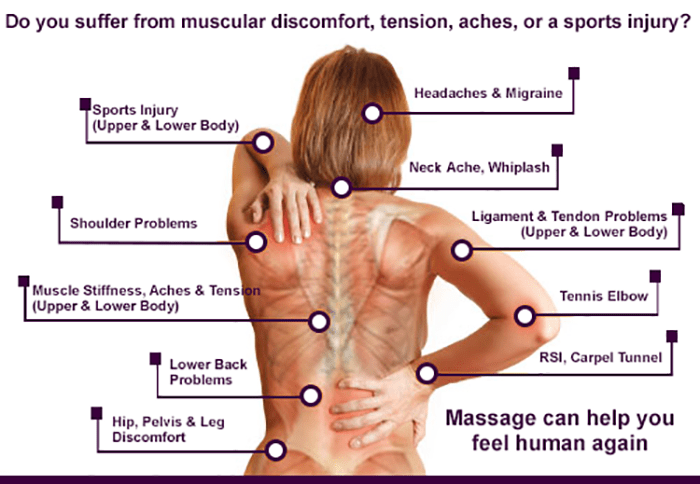 Neuromuscular Therapy for Stress & Pain Management
Body Tech™ Professionals: Body Tech™ Professionals that perform Clinical or Neuromuscular Massage Therapy are properly trained, hold certifications and/or degrees. Clinical Massage Therapy or Neuromuscular Massage Therapy helps relieve stress, tension, trigger points, and pain. These therapies are clinical and are provided in the comfort of our client's home or hotel room.
To learn more please view our menu of services.
Clinical Neuromuscular Therapy "NMT"
Clinical Neuromuscular Therapy "NMT" is a form of soft tissue manipulation that aims to treat underlying causes of chronic pain involving the muscular and nervous systems. This medically-oriented form of massage addresses trigger points (tender muscles points), circulation, nerve compression, postural issues, and biomechanical problems that can be caused by repetitive movement and injuries.
Health Issues Clinical Therapy Can Provide Relief
Clinical Neuromuscular Therapy or "NMT can provide relief for a number of health issues including: Headaches, Migraines, Sinus Issues, Back Pain, Sciatica, Neck Pain, Shoulder Pain or Frozen Shoulder, Hip Pain, Knee Pain, Foot Pain, Carpal Tunnel Syndrome, Herniated Discs, Tendonitis, Muscle Spasms, Strains, Shin Splints, Postural Distortions, Fibromyalgia, Scoliosis, TMJ, Whiplash, Osteoarthritis, Plantar Fasciitis, and Thoracic Outlet Syndrome.
Clinical Therapy is a Safe Alternative to Conventional Therapies
Clinical Neuromuscular Therapy "NMT" is a safe alternative to pain relieving drugs, and has the same general contraindications as any other type of massage or bodywork. Neuromuscular Therapy "NMT" may not be appropriate for those with conditions such as Open Wounds, Muscle/ Tendon Rupture, Suspected Bone Fracture/ Break, Infectious Disease, Arthritis, Inflammation, or Osteoporosis.
Please view our Contraindications Page for more information.